Israel possesses a formidable tank force, boasting an estimated arsenal of more than 2,200 tanks that include modern and upgraded variants. These tanks are operated by combat-ready armored units, highlighting Israel's dedication to safeguarding its security and deterrence capabilities.
The quantity of tanks in Israel's possession represents a crucial aspect of its defense assets and reflects the nation's geopolitical position in the complex and sometimes contentious Middle East region, where neighboring states often have intricate relationships. Consequently, the 
Israel Defense Forces
 (IDF) play a pivotal role in safeguarding the country's national security.
Battle tanks, serving as formidable ground assets, play a vital role in this defensive strategy, signifying both a deterrent and a key element of strategic military hardware during times of conflict. This analysis delves into the particulars of Israel's tank fleet, assessing its current composition and understanding the nation's tank capabilities.
Israel's Armored Corps 
Established in the early years of the state in 1948, this unit of the IDF became a pivotal component of the Israeli army. It was originally formed to address the urgent requirement for armored capabilities during Israel's War of Independence but swiftly evolved into a formidable force renowned for its expertise in armored combat.
From its beginnings, the Armored Corps has held a significant role in safeguarding Israel's national security. It has proven instrumental in multiple conflicts, highlighting its versatility, durability, and strategic importance in combat situations.
The core of the Armored Corps' effectiveness is its substantial deployment of main battle tanks, which serve as the foundation of its operational strength. Throughout the years, Israel has designed and introduced a variety of advanced tank models, such as the well-known 
Merkava series
, celebrated for their innovative engineering and outstanding defensive capabilities.
The Armored Corps is structured into several brigades, each tailored to accomplish distinct operational goals. These brigades are strategically positioned to address a range of scenarios, 
spanning from offensive armored assaults to defensive maneuvers
.
Impressive Israeli Battle Tanks
The IDF utilizes a collection of battle tanks that hold a vital position in their armored warfare capabilities. Nevertheless, Israel's unwavering dedication to military technological advancement and supremacy is unmistakable in its wide-ranging tank inventory, designed to meet a variety of operational needs.
These tanks have been instrumental in both offensive and defensive operations, furnishing the IDF with a significant edge in terms of maneuverability, substantial firepower, and battlefield dominance. The amalgamation of cutting-edge military technology and ongoing enhancements has guaranteed that the Armored Corps stays at the forefront of armored warfare, empowering Israel to counter evolving threats.
5th Gen Merkava Barak V
Israel has officially announced the delivery of the initial production models of the 5th generation main battle tank, known as the 
Merkava V Barak
, to units within the Israel Defense Force.
As per a statement from the Israeli Ministry of Defense on September 19th, 2023, the first set of tanks, described as "
mass-produced
," has been handed over to the 52nd Battalion of the 401st Armored Brigade. This accomplishment follows five years of dedicated progress and production efforts by the ministry's Tank and APC Directorate in partnership with the Weapons Department of the Israeli Ground Forces and the Armored Corps. It also involves collaboration with Israeli defense companies, such as 
Elbit Systems
 and Israel Aerospace Industries' 
ELTA System.
Israel's Minister of Defense, Yoav Gallant, emphasized, "The Barak tank is highly innovative, elevating our maneuvering capabilities to a new level. It serves as a clear demonstration of our technological prowess."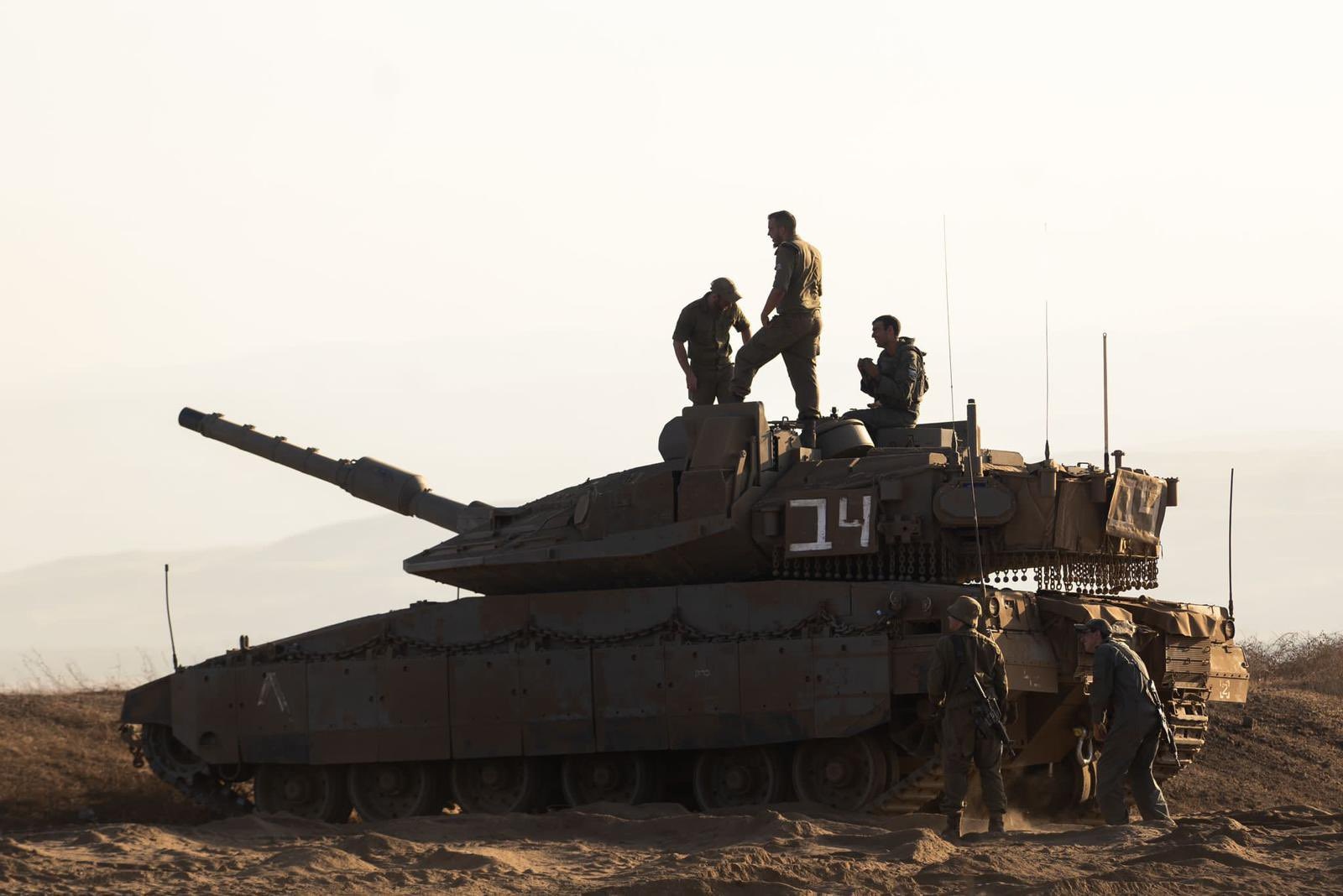 Technical Specifications of Merkava Barak V
Origin:
Israel Ministry of Defence Tank and APC Directorate, Land Forces HQ, Armoured Brigade, Elbit Systems, Rafael, IAI/Elta, etc.
Service Year: 2023
Crew: 4
Propulsion/Engine: V-12 diesel engine with a power of 1500 hp
Speed:
Road Speed (64kph), Road Range (500 km)
Merkava Mk 4 Meil Ruach 
Known affectionately as the "Wind Coat" or "Windbreaker," the Merkava Mk.4 Meil Ruach signifies a substantial advancement in armored warfare capabilities. It stands as an upgraded iteration of the highly regarded Merkava Mk.4 tank, incorporating cutting-edge innovations in military engineering, including the 
Trophy Active Protection System
 (APS), 
tandem high-explosive anti-tank 
(HEAT) 
warheads
, and more.
Back in 2014, reports surfaced regarding Israel's contemplation of exporting a fleet of Merkava Mk.4 tanks to an undisclosed potential buyer, with speculation suggesting a prospective deal with Colombia.
On October 11, 2010, the IDF introduced this battle tank to the world for the first time during a Joint Combat Exercise Demonstration, as officially confirmed.
Special Features
1. 
Trophy Active Protection System
(APS)
: Think of this like a protective shield for the tank. It can detect and destroy incoming missiles or rockets before they hit the tank, keeping the crew safe.
2. 
Tandem High-Explosive Anti-Tank
(HEAT)
 Warheads: These are special warheads that can defeat heavily armored vehicles. They work by first piercing the armor and then exploding inside, causing damage. So, it's like having a weapon that's really good at breaking through tough defenses.
In a nutshell, the Merkava Mk.4 Meil Ruach has advanced safety and attack features that make it a formidable and well-protected tank.
Origin:
IDF Mantak, State of Israel
Service Year: 2011
Crew:4
Propulsion/Engine: General Dynamics GD883 V12 diesel that generates 1500 hp
Speed:
Road Speed (64kph), Road Range (500 km)
Ammunition Load: Main Gun (48 rounds), Machine Guns (?)
Merkava Mk IV
The Merkava IV tank is equipped with advanced features, notably versatile modular armor that can be tailored to counter specific threats, 
showcasing its adaptability and effectiveness.
Throughout its history, the Merkava IV tank has been extensively involved in various conflicts, including the 1982 and 2006 Lebanon Wars. It has played a pivotal role in events like the South Lebanese conflict, the First and Second Intifada, and significant military operations such as Operation Protective Edge, Operation Pillar of Defense, and the ongoing Palestinian-Israeli conflict.
According to publicly accessible information, the Merkava IV tank is currently in service with the Colombian and Philippine Armies.
Origin:
IDF Mantak, State of Israel
Service Year: 2004
Propulsion/Engine: General Dynamics GD883 (MTU883) V12 Water-Cooled Diesel Engine, generating 1,500 hp (1,119 kW)
Speed:
Road Speed (64kph), Road Range (500 km)
Merkava Mk III
Remaining true to its lineage, the Merkava Mk. III continues to be a vital part of the IDF's tank fleet, coexisting with the more modern Merkava Mk. 4. Notably, it is recognized for its unique front-mounted engine, which is designed to enhance the safety of the crew. Within the Merkava Mk. III family, there are variants like the Merkava Mark III Baz and the advanced Merkava Mark III Dor Dalet BAZ Kasag.
The Merkava III has been at the forefront of significant military engagements, proving its worth in conflicts such as the South Lebanon conflict, the Second Intifada, the 2006 Lebanese war, the 2014 Gaza-Israeli conflict, and the meticulously executed 
Operation Protective Edge
.
However, Israeli local news outlets reported in June 2023 that there might be a potential sale of this battle tank to two undisclosed countries, as stated by an official from the Israeli defense ministry.
Origin:
IDF Mantak,State of Israel
Service Year: 1990
Dimensions: L ( 9.04m) x W (3.72m) x H(2.66m)
Propulsion/Engine: AVDS-1790-9AR diesel supplied by Teledyne Continental Motors. The air-cooled diesel provides 1,200hp
Speed:
Road Speed (60kph), Road Range (500 km)
Ammunition Load: Main Gun (50 rounds), Machine Guns (10,000 x 7.62mm rounds )
Merkava Mk II
This tank was specifically engineered to excel in the challenging settings of urban warfare and low-intensity conflicts. In the latter part of 2016, following 33 years of service with Merkava IIs, the 
conscripted brigade made a transition to the advanced Merkava III and IV tanks, which were specially designed for crucial battlefield missions. 
The 
retired Merkava IIs found new roles within reserve forces, serving in border patrols during conflicts and being repurposed as versatile personnel carriers
.
The Mk. 2 tank saw combat deployment in significant events such as the South Lebanon Conflict, First Intifada, Second Intifada, 2006 Lebanon War, and more.
Origin:
IDF Mantak, State of Israel
Service Year: 1983
Dimensions: L ( 8.3m) x W (3.7m) x H(2.65m)
Propulsion/Engine: Teledyne Continental AVDS-1790-7A 950 hp (708 kW) V12 Air-cooled Diesel Engine
Speed:
Road Speed (55kph), Road Range (500 km)
Ammunition Load: Main Gun (62 rounds), Machine Guns ( 2500 x 12.7mm, 10,000 x 7.62mm rounds)
Merkava Mk I
Since its introduction in 1978, the Merkava quickly established itself as a formidable presence in the field of warfare. This robust tank took on pivotal roles in significant historical conflicts, from the intense battles of the 1982 Lebanon War to the intricate events of the First and Second Intifadas. Its strategic significance extended to the South Lebanon Conflict and the 2006 Lebanon War, until it was eventually retired in 2014.
Origin:
IDF Mantak, State of Israel
Service Year: 1979
Crew: 4
Dimensions: L (8.63m) x W (3.7m) x H(2.75m)
Propulsion/Engine Teledyne Continental AVDS-1790-6A V-12 Diesel Engine, producing 900 hp
Speed:
Road Speed (46kph), Road Range (400 km)
Ammunition Load: Main Gun (62 rounds), Machine Guns ( 10,000 rounds)
Magach 7C (7 Gimel)
The Magach series has its roots in the American M48 and M60 tanks. 
Magach 1 to 5 represent the M48 model
s, while Magach 6 and 7 showcase the engineering excellence of the M60 series.
Israel initially utilized M48-series and M60 tanks but experienced significant losses during the Yom Kippur War, prompting the introduction of newer models like the M48A5, the M60, and the M60A1 during the 1970s.
Prior to the 1982 Lebanon war, Magach 6 and 7 tanks received enhancements in the form of explosive reactive armor (ERA). Starting in the 1980s and extending into the 1990s, Merkava tanks gradually supplanted Magachs as Israel's principal battle tank, with all regular units making the transition to Merkavas by 2006.
Although Merkavas also took the place of Magach 7 tanks in frontline units, Magach 7 tanks are still in use within reserve units.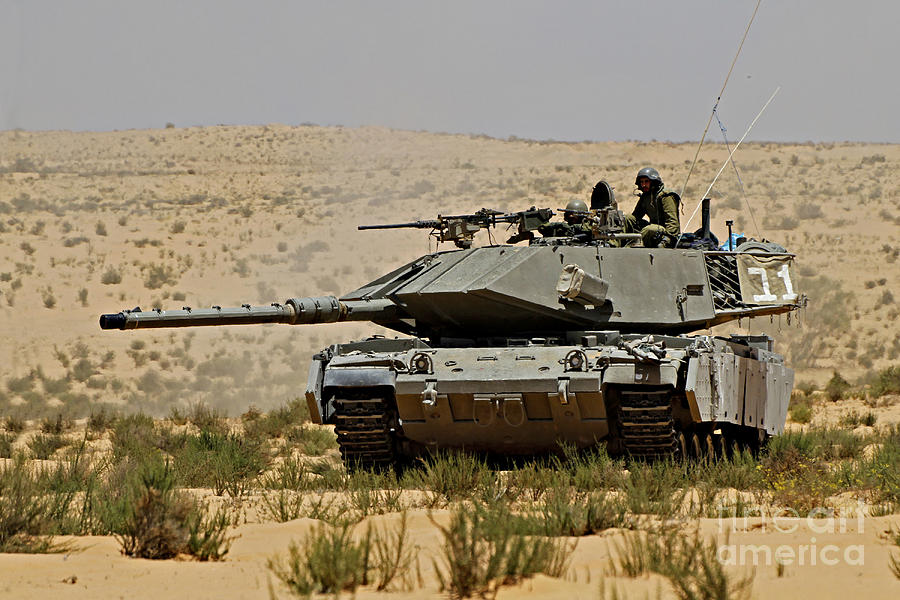 Origin:
Israeli Ordnance Corps Workshops, State of Israel
Service Year: 1980
Service Status:
Limited service
Crew:4
Dimensions: L (9.4m) x W (3.63m) x H(3.25m)
Propulsion/Engine: Teledyne Continental AVDS 1790-5A diesel, producing 908 hp
Speed:
Road Speed (60kph), Road Range (400 km)
The Inventory of Israeli Tanks
As reported by credible media sources, Israel maintains a formidable tank inventory, amounting to more than 2,200 units, with a significant 1,760 of them prepared for active combat. Leading the Israeli Defense Forces' armored capabilities are the esteemed Merkava series, encompassing the II, III, and IV models.
Furthermore, Israel's armed forces consist of 169,500 active-duty personnel across the army, navy, and paramilitary units. Notably, a robust reserve force of 465,000 individuals strengthens the nation's defense, with an additional 8,000 dedicated to the paramilitary.
(The views presented in the article are of author's own and do not reflect the editorial stance of Business Upturn Asia)